We design collaborative change that drives client action
With every engagement, our consulting services help you:
DESIGN a collaborative change process for the entire organization.
Facilitate a meaningful CHANGE experience for all participants.
Create structures that drive ACTION and increased buy-in for the future.
S&G helps our clients with collaborative projects that are customized to meet your needs. Whether corporate, nonprofit, individual, or government agency; we work with you to ensure you achieve your outcomes by designing the right change approach to drive action, including the following examples:
Meetings
Host a project launch meeting between a variety of agencies or partners that creates a unified and collaborative action plan.
"We brought a diverse group together from across the state and S&G Endeavors did a great job of working them through a process to identify common goals, objectives, and next steps to achieve a common good. They made the process well worth the time and effort."

—David Laumer, former Bicycle and Pedestrian Coordinator, Arkansas Department of Transportation
Retreats
Conduct a department, staff, or board retreat that results in increased teaming and cohesive action.
 "I believe that S & G Endeavors' skills and expertise helped our board achieve a unified understanding of what it means to work together and how to focus our energies toward fulfilling our mission."

— Mark Guenther, Executive Director, DC GLBT Chamber of Commerce
Short-term, dynamic sessions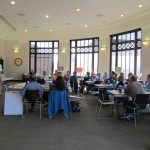 Engage your community of stakeholders in a dynamic process to increase ownership and create a strong and actionable strategic plan.
 "S&G Endeavors is excellent at bringing together communities and organizing ideas to bring about a real action plan. Their consultants communicate with such a broad base of individuals and are able to bring together ideas that exist in silos. Their skill set is truly unique."

—Diana Rohini LaVigne, Past Executive Director, Bay Area Bicycle Coalition
 Long-term change initiatives
Facilitate a series of custom-design meetings to create action that results in long-term change.
  "Working with the team at S & G Endeavors made the merger exciting. Between the technical challenges of merging two very different organizations and the participants different visions of what a group should look like, the prospect of the merger seemed to be a long shot at times. S & G's optimistic attitude and ability to remain focused on the core issues that  needed to be resolved, combined with their dogged persistence, has supported us in creating an organization that will create a vastly improved environment for cycling in Austin."

— Hill Abel, Bike Austin Board
Executive coaching
Work with our seasoned professional consultants who have more than thirty years nonprofit operations and executive management experience to create personal change in you that will impact long-term change for your organization.
Services offered include:
Working with team-based management that incorporates simple accountability systems that work.
Dealing with difficult situations at work and moving beyond conflict.
Finding the strengths in your team and developing future leaders for growth.
Executive search services
Find the best talent for your organization for executive positions with services such as recruitment, resume screening, initial telephone interviewing and administrative management of the hiring committee. Learn more here.
Interim executive Services
We provide interim services for executive positions in nonprofit organizations in the areas of executive management and fundraising/development. Whether it is for a sabbatical, parental leave, or a gap in hiring, we can step in and fill your needs to help keep you strong and thriving. Rob Sadowsky, one of our consultants, has more than twenty-five years of nonprofit experience and is willing to travel to meet your needs, for up to 3 months. Learn more here.